What does having a balanced life mean to you?  
I recently read a report by the World Economic Forum that work-life balance is one of the top 4 front-of-mind items employees are looking to their employers for certainty about the future. However, a balanced life goes beyond just work-life balance.
Each of us generally have about 6-10 areas in our lives which we would consider important for a wholesome life. This can be portrayed on a page using a visual tool called the 'wheel of life', a concept created by Paul J. Meyer, the pioneer of the self-improvement industry.
Well-balanced is described as the sensible way different parts are put together where there isn't too much or too little of any one part. Essentially, having a well-balanced life is to keep this wheel turning, optimally.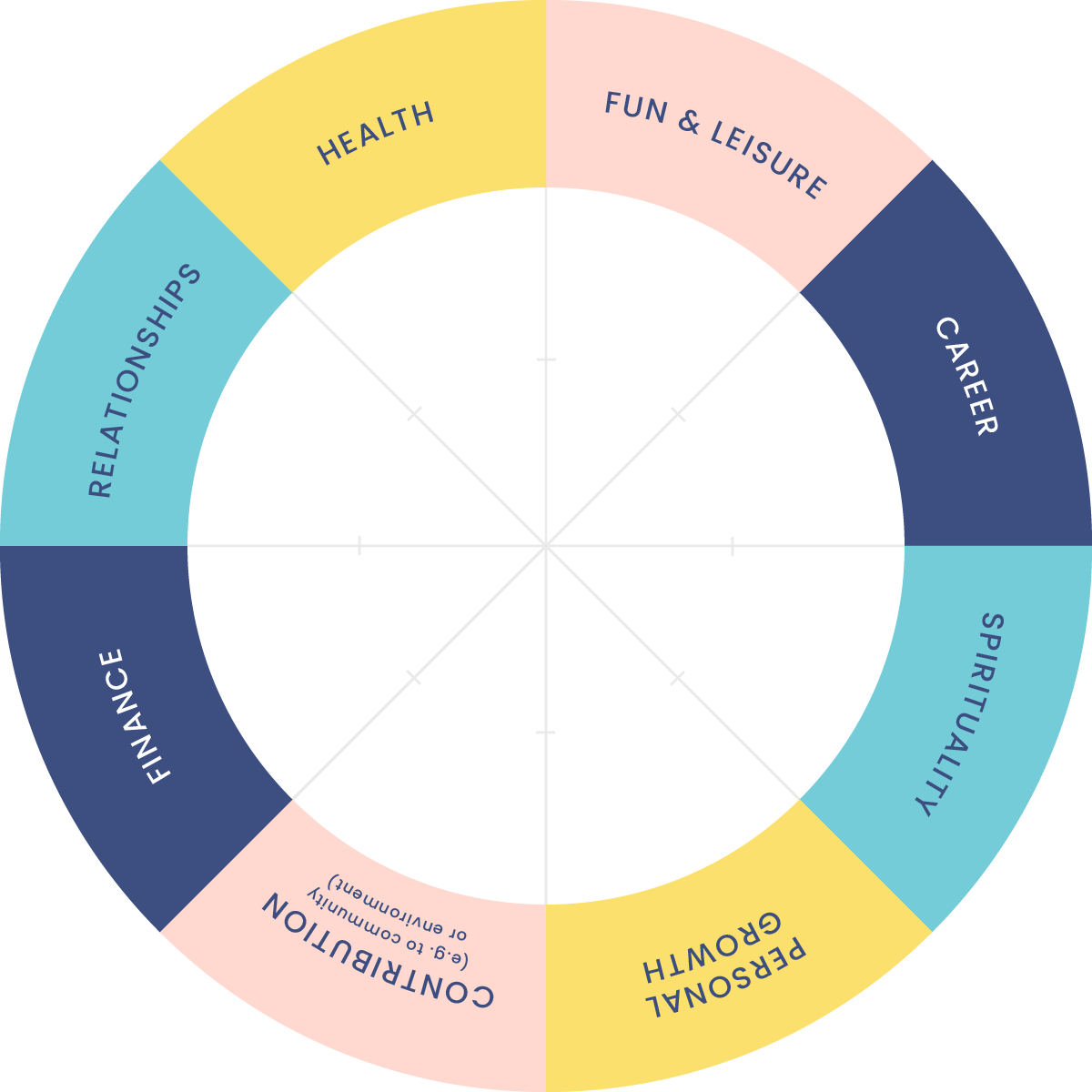 I believe that one of the reasons one struggles to find balance in their life is because they haven't defined what balance truly means to them. If you don't have clarity of what you want, how are you going to know what to do to achieve the balance that you're after? Specifically, how would you determine your priorities, set your boundaries and take on challenges that align with your values, purpose and vision?
Here's sharing my definition of what a well-balanced life means to me and how I maintain it.
Health
Mentally: Have peace of mind in terms of security where I live in a safe environment - a country with a semblance of political stability, part of a largely non-oppressive community, having access to fairly good healthcare and being in a positively compatible relationship. 
Physically: Having the ability to enjoy all my senses without too many reservations i.e. no detrimental illness that prevents me from doing and eating whatever I want, which I take as an opportunity to engage in healthy activities and diet. 
Emotionally: Acquiring connections to love and be loved.
Overall, a healthy life for me is having the freedom of choice to think, feel, do and express matters that are important to me so that my passions can thrive.
Relationships
Family is my utmost priority and this includes my massive extended family and in-laws, as well as friends who have become family. To be able to always be available and maintain meaningful relationships with them gives me fulfilment. 
Finance
Being financially independent to support my simple lifestyle and priorities, now and in the future. 
Fun and leisure
Travel to as many parts of the world as possible for as long as my body is able. 
Cook, bake, host and hang out with family and friends, sharing life stories and laughter. 
Inspire others through writing about life experiences, travel stories and poetry. 
Personal growth
Gaining fresh ideas, thinking and learning from others through purposeful conversations or from reading, watching a talk, documentary, movie and theatre. 
Taking on stimulating challenges like learning a new language - currently learning Spanish, trying out a new recipe, signing up for a new course, meeting new people to expand my network and collaborating on new projects. 
Career
Doing meaningful work that I'm passionate about which is supporting people who are at a crossroad in their lives to gain clarity and move forward to achieve their goals.  
Operate a sustainable business that aligns with my purpose, priorities and financial goals. 
Contribution
Community: Offering my skill sets for pro bono work e.g. coaching and mentoring students and clients working in conflict or post-conflict areas. Being neighbourly and supporting local business, in my neighbourhood as well as globally. 
Environment: Increase consciousness of my carbon footprint to reduce consumption, reuse materials and recycle waste as well as save on energy. 
Spirituality 
This element is the one that binds all the above for me. As a Christian, I choose to abide by the Word of God and live a life where He leads. Proverbs 3:5-6 Trust in Jehovah with all your heart, And do not rely on your own understanding; In all your ways acknowledge Him, And He will make your paths straight.
Now that I have my definition of a balanced life, I keep my wheel spinning smoothly by evaluating each segment of my wheel - keeping the status quo for the areas where I think are going great and provide extra focus to the areas that could cause the wheel to come to a halt if not attended to. My current works in progress are in the areas of physical health where I'm still striving to fully recover from my knee surgery with physiotherapy; finance where I'm working towards being mortgage-free and preparing for retirement by managing my wealth in a realistic manner to pay off my loan and put aside a portion for pension while taking into consideration my daily survival needs; and career where I'm sustaining the momentum of realising my purpose of supporting people who are at a crossroad in their lives to gain clarity and move forward to achieve their goals. 
What is your definition of a balanced life? Drop me a comment below. 
Looking to live a balanced life?